It's Day One of the fifth annual observance of Armchair BEA! This virtual companion to Book Expo America is getting the jump on the real thing this year, but that gives us all a little more time to hang out and get to know each other. Here are my answers to five of this year's Introduction questions.
Please tell us a little bit about yourself: Who are you? How long have you been blogging? Why did you get into blogging? Where in the world are you blogging from?
My name is Florinda, and I've been blogging here at The 3 R's: Reading, 'Riting and Randomness—-The 3 R's Blog for short—-since March 2007. I'd never been diligent about keeping records of what I'd read, but having been a reader for nearly four decades at that point, I was starting to forget too much of what I read, and I felt a need to do something about that. I'd been reading blogs for a year or two at that point, and it seemed like a blog of my own might be a good solution. It seems to have worked out well.
In addition to being a blogger, I'm the second wife of my second husband, mother of one, and stepmother of two. After several cross-country moves, I've been in Southern California for over a decade; I blog from the Los Angeles area, where I live and work as an accountant (which is why I almost never blog about my work–who wants to blog about accounting?) However, this week I'll be blogging from New York City, where I'm attending Book Expo America…but as a founding member of Armchair BEA, I'm joining the virtual fun as well!
Describe your blog in just one sentence. Then, list your social details – Twitter, Facebook, Instagram, etc. – so we can connect more online.


This blog has a tagline that follows the "Reading, 'Riting, and Randomness" subtitle: "It's not just a title, it's a mission statement." I'm not sure I can sum this up any better than that, which works in tandem with my basic credo/philosophy of blogging: "There's no one right way to do this."
If you'd like to get a feel for what The 3 R's are all about, I'd recommend a visit to my "Posts About Posts" page, where you'll find my annual wrap-ups and other collections of links to what I've written here (and occasionally elsewhere). In addition, my Book Review Archive spreadsheet has been updated just in time for Armchair BEA!
My most-frequented other online haunts are Twitter (@florinda_3rs), Facebook (personal and blog), and Instagram (florinda3rs).
What was your favorite book read last year? What's your favorite book so far this year?


I had four "Books of the Year" for 2013, but if I have to single out just one of them, it would be Sheri Fink's remarkable account of post-Katrina New Orleans, Five Days at Memorial: Life and Death in a Storm-Ravaged Hospital.
2014 is shaping up as a pretty good reading year, based on the ratings I've assigned on my BookLikes shelf, but when I've been able to read alot of books I've really liked, I have a lot of trouble choosing one I like best. At this point, I'd pick the most recent novel by one of my favorite people, Going Over by Beth Kephart.
What does your favorite/ideal reading space look like?


I'm lucky. I actually have my ideal reading space, which I showcased during the Spring Readathon last month.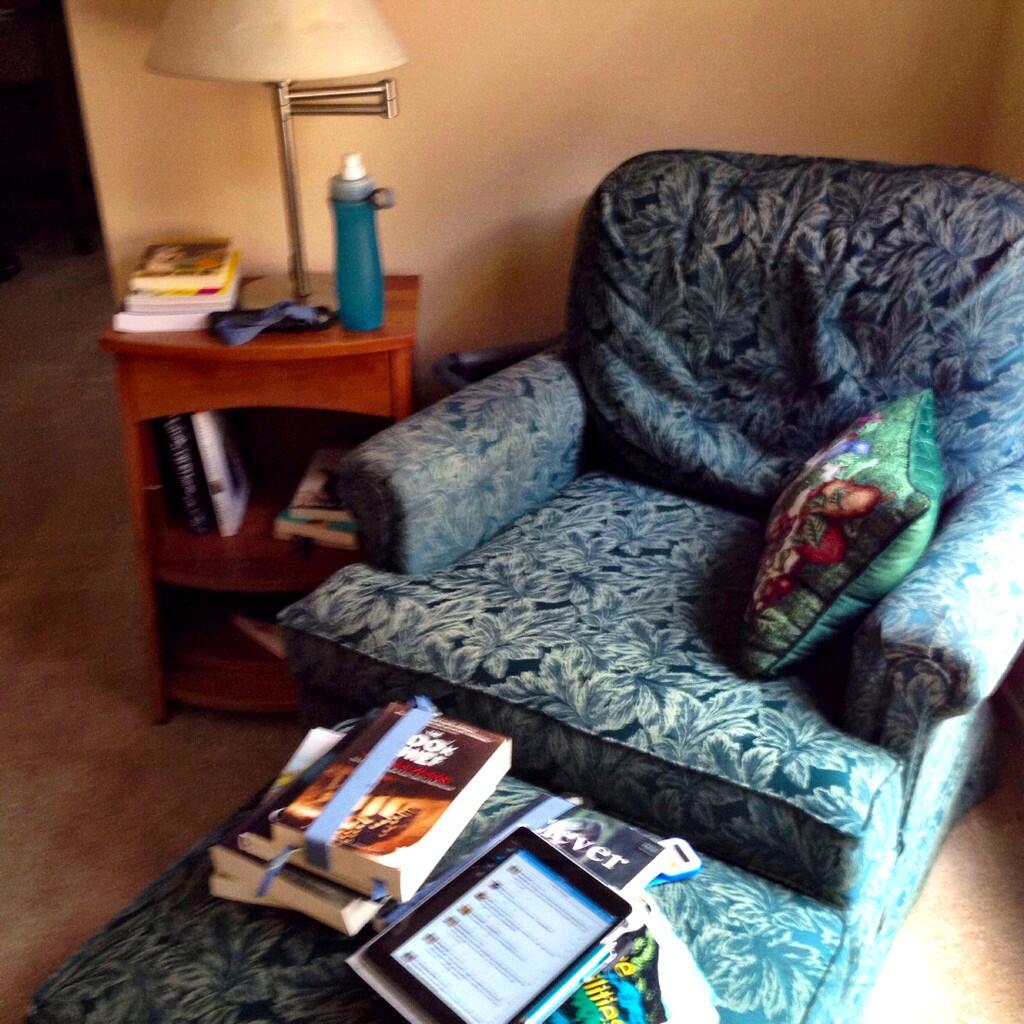 What is your favorite blogging resource?


It may be because I was a reader of blogs before I became a blogger, but in all seriousness, my favorite blogging resource is—bloggers! I use my Feedly to find and follow them; I get ideas for content and design from the things I see them do; and I love to communicate and converse with them, which is why I'm doing both Book Expo and Armchair BEA this week.
Thanks for coming by, and I hope you'll let me know you did!
If you liked this post, check these out:
Subscribe to Blog via Email
Join 2,318 other subscribers